Your Story Matters. We're Listening.
Connecting our community one story at a time.
We are here to listen, love and serve!
Long Beach Community Theater presents
What happens when we take our masks off? When does the REAL (insert YOUR name here) get to stand up? To be known? To be seen? To be loved?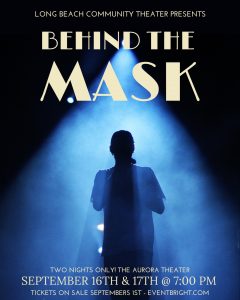 September 16th & 17th @ 7:00pm
SOLD OUT

…a CASUAL storytelling event!
When:
Last Wednesday of each month
6:30pm – 8:30pm PT (but music begins at 6pm!)
Where:
Di Piazzas
5205 E. Pacific Coast Highway, Long Beach, CA 90804
Gratuities are greatly appreciated. Thank you for supporting your local community theater!

Suggested Donation: $5-10
Next event:
Oct 26th
Topic:
What Lurks in the Closet?
Real life Ghost stories / Scary stories / Paranormal Activity
We need your help to continue!
The world changed in many ways in 2020. For Long Beach Community Theater, it meant LIVE entertainment was forced off the stage and into our homes. While we have absolutely loved providing this safe space and platform to bring our community together, we no longer have ticket sales to help us with our expenses.
We enthusiastically invite you to be one of our financial supporters who helps get "our" theater through this uncertain time. No amount is too small!