Dear Friends of the Long Beach Community Theater,
A little less than 8 years ago, 13 friends and strangers gathered in my backyard for the very first rehearsal for Long Beach Community Theater (LBCT). In our group circle, I told of my dream to create a safe space for people to share their life stories. By artistically creating and collaborating, our effort could become a positive light for our community. A little over a month later, we performed our first show to a packed house at DiPiazza's. It was an incredible night and the Long Beach Community Theater was BORN! Since then, the LBCT has had well over 100 performers take to the stage – sharing their stories, songs, poems, spoken-word pieces, films and dances. Another HUGE BONUS – Ticket sales from our shows, along with the generosity of our community, have enabled us to come alongside and contribute thousands of dollars in money, goods, and volunteer hours to several small non-profits in the city of Long Beach.
2020 began back on the stage at DiPiazza's. That night, community enthusiasm and support produced a great profit at the door and enabled us to do a blanket and hygiene drive for the Long Beach Community Table (the other LBCT!). The new year began with such excitement and hope. Then…coronavirus. The world changed in many ways. For Long Beach Community Theater, it meant LIVE entertainment was forced off the stage and into our homes. We immediately set up a ZOOM account and became virtual – an adventure into the unknown. "Feel the fear and do it anyway." "Jump and know the net will appear." Our topic for the March show had already been set on "RESILIENCE" so it seemed apropo… and we jumped!
We have absolutely loved providing this safe space and platform to bring our community together during this challenging time. We have laughed, cried, fumbled and done the hokey pokey to make it through the last seven months to bring a little joy to our community. Hoping covid-19 would be temporary and to continue our mission, we offered our online shows at no charge. For the first five months of "Safer at Home", we were putting on shows every two weeks, all in the name of morale building. Unfortunately, open or shut, businesses continue to have expenses. Some of ours have included a new computer system, our new ZOOM account, and advertising. To continue we will have to have financial support. So we sincerely ask for your help. We enthusiastically invite you to be one of our financial supporters who helps get "our" theater through this uncertain time. No amount is too small. If you have appreciated what we have done as a Community Theater, please consider making a monetary DONATION to assure our being able to continue supplying this wonderful space for us to gather – be it in person or on ZOOM.
We have set up a business VENMO account OR if you don't have a VENMO account, you are welcome to send a check payable to: Long Beach Community Theater to me personally. (I will send my address upon request only.)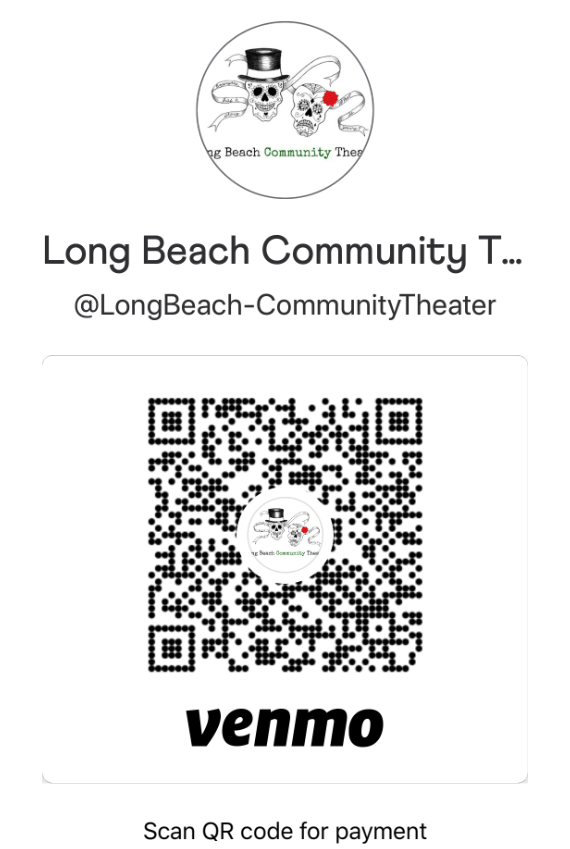 https://venmo.com/LongBeach-CommunityTheater
So many have spoken supportively of our mission. We have had every indication that the LBCT is contributing to a healthy community and truly shining a bright light in these troubled times. If you have benefited from the program we offer, be it as a storyteller, performer, or as an audience member, WE NEED YOUR HELP. We would like to make it to Season 8 – with your support we will survive 2020 and make it into the year 2021!
Thank you for supporting your local community theater.
Warmly,
Ann Wellman
Founder/Artistic Director of the Long Beach Community Theater